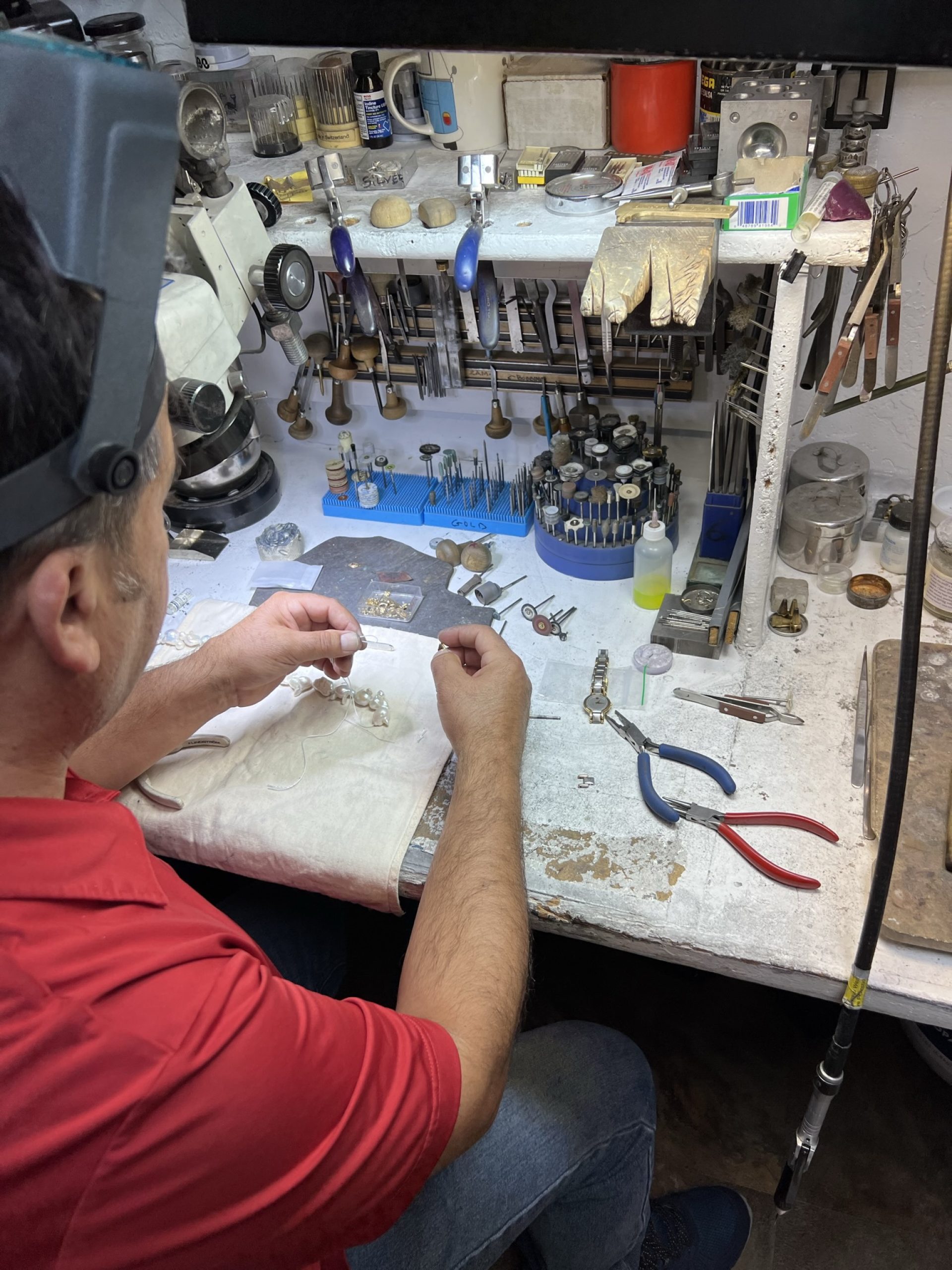 Customer Testimonials
Doug and his team are TOP NOTCH Jewelry professionals. I was looking for the best for my future Fiance and discovered just that, Hearts on Fire and ER Sawyer Jewelers. Hearts on Fire states that is the worlds most perfectly cut diamond. You would expect the Jeweler who carries such a high end diamond to be equally matched….And I am happy to say that, Wow! What a team of professionals. Every person on staff greets you with a smile and great customer service. Thanks ER Sawyer Jewelers, you made me look like a Rock Star to my Fiance. (Get it, Rock star!)
Bryan F.
Santa Rosa, CA
December 20, 2009
The Valley Fire in Lake County on September 12th, 2015 was an awful experience for so many people including my family. We thought we'd lost everything. The day we sifted our home we found my grandmothers wedding ring, inside a ring box that was inside another box. More than likely the only reason is survived. It looked like it had been to hell and back. I had no reason to believe it would ever been worn again until Doug and his amazing team took charge. I will post a photo of before and after. The photo will speak volumes. Thank you E.R Sawyer Jewelers for being THE place to take my grandmother ring. You are my jewelry from now on.
Tina C.
Santa Rosa, CA
November 24, 2015
My fiance had my engagement ring set here and they did an amazing job! I have gone in a few times since to have my ring sized and to look at wedding bands. Both times Leslie has been incredibly nice and helpful. I can often be indecisive and she was patient and happy to help me make a decision. When I took my ring in to have it sized, I dropped it off at 11 and they called at 2 to tell me it was done. I was impressed with the speed and quality of work they did. It was spectacular. They have a new client for life.
Jen F.
Santa Rosa, CA
July 9, 2013
Nate was the man! I was looking for the perfect ring for my fiance and he listened to me and my wants and found me just what I wanted and more importantly my now wife loves the ring. I recommend everybody go to E.R. Sawyer if you want a great experience with amazing jewelry.
Ryan C.
Santa Rosa, CA
August 29, 2013
They tell you what they will do with your jewelry repairs and then they just do it. this is a rarity in the jewelry biz as i've been burned before. not these guys. they can be trusted.
Lorenzo L.
Santa Rosa, CA
June 27, 2012
Leslie and the team at ER Sawyer go above and beyond in all aspects of customer service and experience. My husband selected a family heirloom ring to propose, but it needed a new diamond and some serious cleaning/restoring. He took it to ER Sawyer and they made it look like a brand new ring – the before and after photos they have on file are jaw dropping (I love that they could show me a before pic, once I had it on my finger). Unfortunately, my ring size wasn't known and it was made a few sizes too big, so I went in a few times to get it sized back down. Since the filigree on my ring is so small and detailed, Leslie took the time to show me under the microscope all of it's beauty and rarity. Being a platinum antique ring, they ensured me that their goldsmith would use advanced laser technology and explained the techniques, so I wouldn't worry so much about damaging the ring. Both Leslie and Morgan were very helpful during this process. When it came time to pick out a wedding band for my husband and myself, Leslie spent time with each of us to find out what we wanted, show us examples to try on and answered all of our questions. We never felt rushed. Leslie also made herself available via email for me to schedule drop-in times and order details. Payments were super easy and accommodating and included cleanings for my ring have always been quick and wonderful. My husband loves wearing his new wedding band and I love my combo of my engagement ring with the new custom made wedding band. We are so grateful and pleased with our experiences here at ER Sawyer!
Tiffany G.
Sonoma, CA
May 13, 2017
Such a nice, tidy store tucked away in 4th Street–a pleasant surprise. I recently visited this shop to have a gold signet ring engraved–or should I say re-engraved. I was assisted by Morgan, a quite knowledgeable young lady who helped me with font selection and gave me valuable advice about what I could expect re machine engraving vs. hand-engraving. She and Leslie did an excellent job for me and were communicative, cheerful and enthusiastic. These are the kinds of things that will keep me coming back in the future.
Larry Gilbert P.
Petaluma, CA
December 18, 2015
I was looking for a jeweler that would be able to size a family heirloom ring. We have been to a few places but were discouraged for one reason or another. We found ER Sawyer and received an immediate response, we brought the ring in, explained what we would like to have done and crossed our fingers. Not only were they absolutely amazing with the process but even cleaned my other engagement ring while we were waiting... just because!! The resizing was not only fast but the ring looks AMAZING! I cannot express enough my gratitude for the amazing job they did... but just the stellar customer service that is off the charts amazing! If you want EXCELLENT service and unbeatable craftsmanship... please call Leslie at ER Sawyer, she will make you feel like a celebrity!
Shannan J.
March 20, 2023
I've been searching for 20 years to turn my parents wedding rings into one ring for me...Leslie worked with me to pinpoint my vision for the final product and it turned out perfect!
If I could give ER Sawyer 6 stars I would!! Leslie Griswold is wonderful!! I don't know full details of the engagement ring process, but Leslie and my fiance (now husband) went above and beyond choosing the perfect diamond and custom setting to surprise me with on our engagement. Leslie makes us feel like her only customers! We chose our wedding bands with her as well. She even text me a couple weeks before our wedding day (yes, she remembered our wedding day!) as a reminder to bring the bands in for cleaning and inspection prior to our destination wedding. WHAT??? Is she my maid of honor?? She's amazing. I also text her back asking for a surprise engraving 10 days before our wedding and she got it done right away. Shop local, its SO worth it. Thank you Leslie and ER Sawyer, you are our jeweler for life and we have been recommending you to everyone!
Breauna C.
Sebastopol, CA
February 5, 2016
Get in Touch
For over 140 years, the Van Dyke Family has served the jewelry needs of Sonoma County. So when you need assistance selecting a one-of-a kind engagement ring, repairing a family heirloom, or choosing a new time piece, turn to the experienced E.R. Sawyer Jewelers team for help.