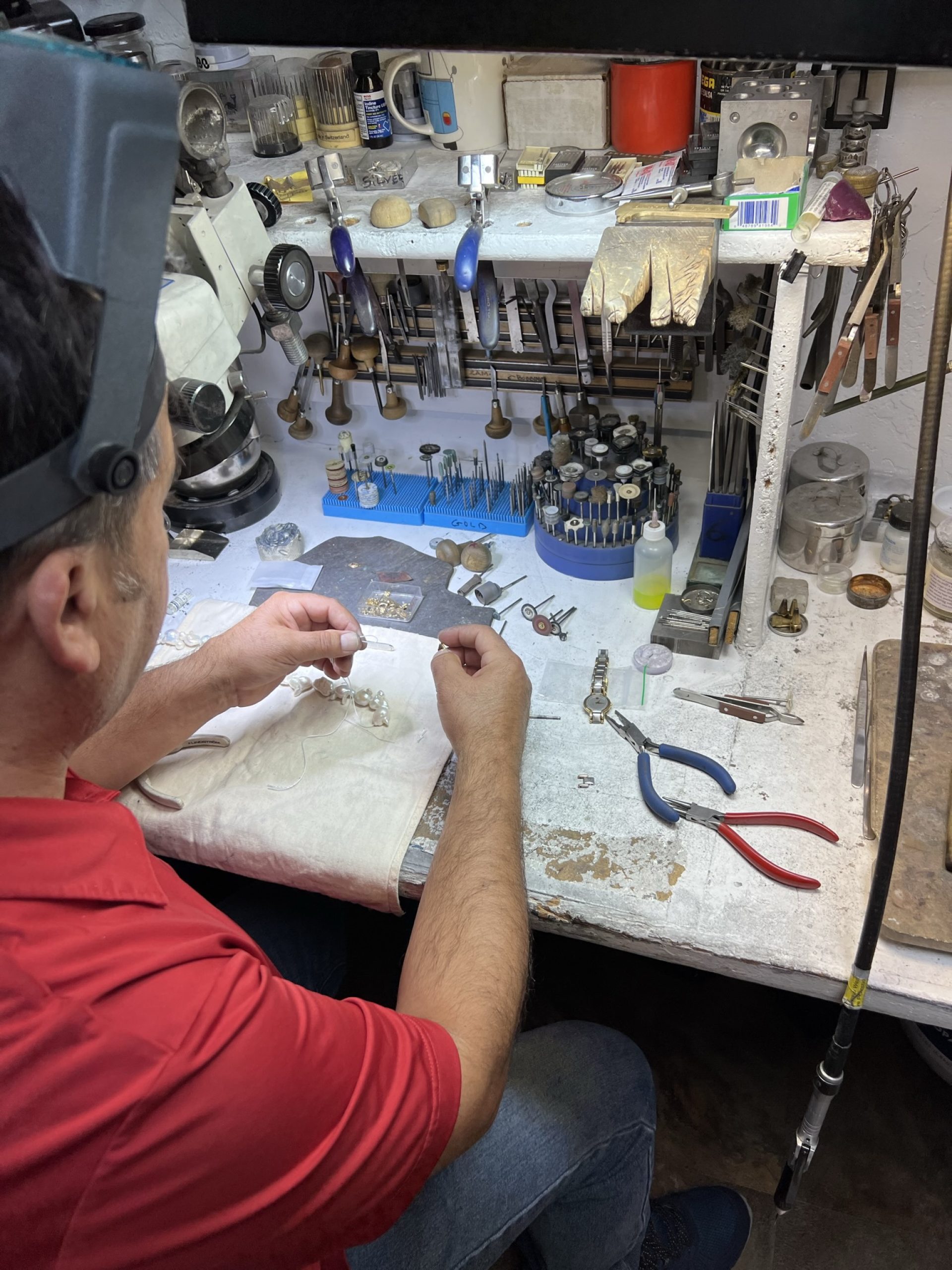 Customer Testimonials
I came in at the last minute to see if I could get our wedding rings cleaned and polished before our ceremony (in 2 days!) and Leslie was so helpful and put a rush on our rings (no extra charge!) and when I saw them the day of the wedding, they were SO BEAUTIFUL. They all looked better than I remember when we first got them! Absolutely will come back here for any ring or jewelry services. Thank you Leslie!
Rachelle P.
San Francisco, CA
July 27, 2017
I've been enjoying ER Sawyer many years for new purchases, redesigning, resizing, new designs for family heirlooms, appraisals, fixes& cleaning. Their service has always been excellent. They are very helpful and knowledgeable.
This place is awesome. Superior customer service!!!!!! Check it out, I had a very very tiny electrical circuit board for my business that needed to be reinserted back into a hinge. It could only be accessed and repaired with watchmaker tools and optics. So I searched the internet for a Santa Rosa jeweler who would help me. Most calls turned up nothing because people said they would only work on jewelry. But ER Sawyer was more than eager to take a crack at it. I brought in the electronics and they jumped right into it like old pros. "Ah ha, here's the problem right here." The let me look through the jeweler's loop to see how they were going to fix it. Then, they solved it and I was on my way. They were SOOOOOOO nice and welcoming and I was delighted to have the repair done. I would recommend them to anyone. Oh, and they charged me a super affordable price that I was more than happy with. Go there and be happy!
Kirk D.
Sebastopol, CA
March 5, 2017
The fiance and I decided to check this place out based on a recommendation by some close friends who had just bought the guy's wedding band here. since we were up that way we wanted to see what they're talking about since at some point we need to get His band walked in one Saturday afternoon and they looked busy, good sign. the place looked nice and inviting, not too many sales people, phew. with lots of good lighting. we were greeted instantly by Judy who inquired about our visit and took us to the guys wedding band section… she was very helpful and listened to everything we had to say to help us figure out what we did/didn't like. never at any point did we feel pressured to buy; i'm sure it helped we mentioned we hadn't looked at wedding bands yet at all, but still it was appreciated. we learned a wealth of knowledge during our visit about the different metals, finishes, widths, etc. to wedding bands. Judy was so helpful and informative, we spent damn near an hour in there looking at bands…naturally i was curious about a band for me! so i tried some on too his/her rings were a bit more expensive then what i expected (this coming from the girl who'd only looked at Costco and ShaneCo, lol) …also HIS exact ring isn't available to try, we have to order it so it's a gamble to order. overall a great experience, no wonder my friends got the guys ring here!!
Sara W.
Livermore, CA
September 27, 2012
We worked with Leslie at ER Sawyer for our engagement/wedding rings. Leslie helped my husband design the most beautiful custom engagement ring, better than anything I could have imagined. And then for his gold wedding band she showed me different options and helped work with my budget. We are both so happy with our experience at ER Sawyer and highly recommend working with Leslie!
So happy with this place! One of my best friend's mother, who's lived here all her life – and she just turned 94, still sharp as a tack – recommended them to me. Morgan Griswold, with whom I worked with to evaluate whether certain items were worthy of repair, appraisals, whatever, is very savvy and cordial. Looks young, but is quite experienced in the business. I would imagine that in a rather small town, now much larger than when I went to high school here in the '60's, reputation is key – and that has allowed this place to survive and thrive.
Mara B.
Santa Rosa, CA
April 22, 2017
I can't say enough good things about this business. Right after DOMA's repeal, my partner and I put it into high gear to put together a wedding. We did not have a lot of money to spend on rings and were worried we would not find anything. We even considered just going to a stand in the mall (shudder) Enter Leslie. We sheepishly walked in, and she made us feel so comfortable and she was so warm. We looked at a wide range of rings in our price range, and after much flutter, ended up picking the same design. They were custom made and could not be more beautiful. Never once did we feel pressured to spend beyond our range. Leslie, you made this potentially anxiety provoking situation something exciting, fun and sacred. This is what good business is.
Matt C.
Rohnert Park, CA
September 21, 2013
This place lives up to the reviews, I was very impressed. Because of my work schedule I didn't have much time to shop for my wife's birthday, and I wanted to get her a locket engraved with a B and a picture of our son inside. I fully expected not to get it in time for her birthday, due to my lack of planning. I believe I worked with Alfredo, although I am terrible with names, and they where able to get a locket, engrave it, put the pictures in for me, help me pick out a chain, and wrap it up within one day! And it came in well under my projected budget. I was very happy with ER Sawyer, and will definitely return.
Seth B.
Santa Rosa, CA
July 14, 2015
My mother gave me a pair of earrings worn by her when she came from Greece to the United States in 1949 to marry my father. I don't know how long she wore the earrings before that but I am guessing a long time. I have had them for over 50 years myself but they were broken and worn. They have tremendous sentimental value to me. I brought them to Leslie at E.R. Sawyer Jewelers. She immediately understood how important the earrings are to me especially because I want to pass them down to my granddaughter someday. Leslie did a fantastic job on the earrings. They turned out perfect and I am so thankful to her. She is so personable and caring. I highly recommend E.R. Sawyer Jewelers!
Went in for some earrings for the lady for her birthday. Staff was first class, made some very helpful suggestions and gave me a huge range of options. Got a great diamond set of earrings at a good price. Very good at what they do.
Don B.
Petaluma, CA
April 29, 2017
Get in Touch
For over 140 years, the Van Dyke Family has served the jewelry needs of Sonoma County. So when you need assistance selecting a one-of-a kind engagement ring, repairing a family heirloom, or choosing a new time piece, turn to the experienced E.R. Sawyer Jewelers team for help.