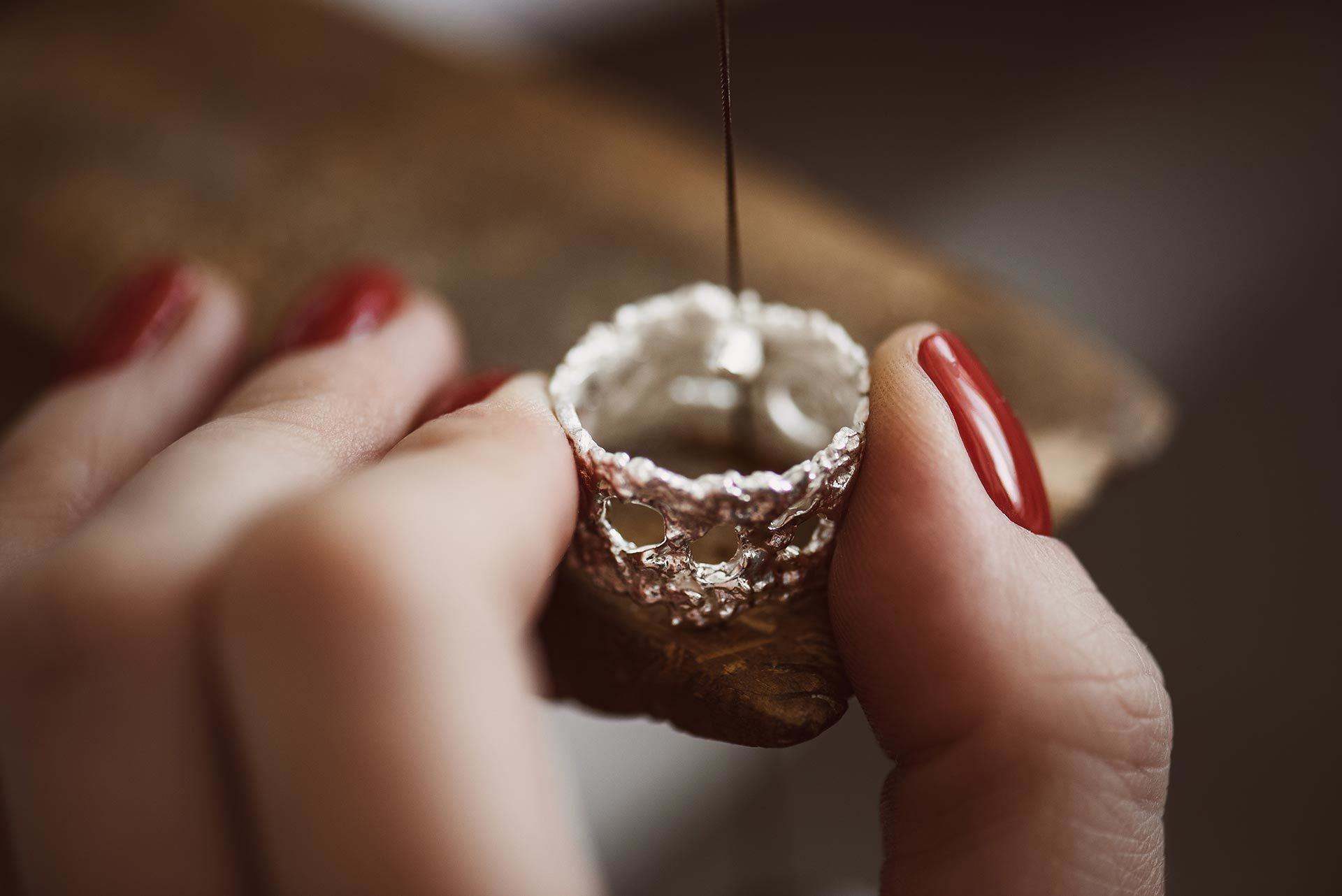 Ring Resizing
Taking care of all your jewelry needs since 1879
At E.R. Sawyer Jewelers, we are able to carry out ring alterations and re-sizings promptly at our in-house workshops at both our Santa Rosa and St. Helena stores. This enables our goldsmiths to carry out numerous repairs and jewelry services on-site, as well as giving you the peace of mind that your precious rings are safe in a secure environment.
Engagement rings and rings received as gifts or passed down as heirlooms usually need to be resized to fit correctly. Maybe your finger size has changed (most women ring sizes change 5 to 7 times in a lifetime) or would just like to wear your ring on a different finger.
---
Does My Ring Need Resizing?
Sometimes it is very clear when your ring is too large or small, like when it easily slips off your finger or causes swelling. If your ring spins, that may also be a sign that it is not correctly sized and can cause the setting to wear and loosen, leading gemstones to fall out.

While proper sizing is important for all rings, it's especially critical for those that you will wear daily. A ring that fits correctly slides on easily but requires a little effort to get off and over your knuckle. It may feel slightly tight.

Keep in mind that the average finger fluctuates in size throughout the day and throughout the seasons, with rings tending to fit more snugly in the summer when fingers swell and looser in the winter when they shrink in the cold.
---
How Do You Resize A Ring?
Making a ring larger requires either stretching the metal of the ring or adding additional metal. Typically, stretching the metal of a ring only makes it about a half size bigger and may weaken the ring, so jewelers usually recommend adding metal to the band. Sizing up a ring is usually done by heating up and cutting the band, adding more metal to form a bridge and soldering the ring back together.

To make a ring smaller, it would be heated up and a small piece of the band would be cut and soldered back together to form a perfect circle. Typically, it's easier to make a ring smaller than to size it larger.
---
Can My Ring Be Resized?
For a ring to be resized, it needs to be made of metal such as silver, gold, or platinum with enough room on the ring for the actual work to be done.
It may be more difficult to resize rings that contain multiple stones and intricate settings.


Certain rings that can be difficult to resize
Full eternity bands: These are difficult to resize as the stones are set all the way around the band leaving bare metal to work with. Depending on the design, resizing may not be possible.
Tungsten & Titanium rings: The metal is too hard. Cutting a tungsten ring would cause the entire thing to break apart. Many of our Tungsten rings have an exchange policy, please inquire if you are interested in one of these rings.
Rose gold rings: There are also many variations of rose gold, so it's important to choose a reputable jeweler that will be able to match the hue of rose gold on your ring.
Titanium rings: Many jewelers will not resize titanium rings due to how difficult the metal is to resize.
Rings with tension settings: Changing the size of the band can compromise the ring's tensile strength or cause the center gemstone to be misaligned.
It's worth noting that rings with stone settings vary significantly. Some can be sized with no issues and others may be more problematic. Our goldsmiths assess all rings and will advise you if there is a risk of damaging the ring, or if special precaution should be taken if the ring is to be resized.
Occasionally, stone set rings need to be re-mounted into a new ring. This ensures the stones are fully secure and the new ring is in the correct size for the wearer. If this is the case, we will discuss this, and the proposed work, with you in detail.
More intricate rings, such as fully engraved rings or heavily diamond set pieces, may take slightly longer as the re-sizing process involves additional services. This includes re-engraving the ring or re-mounting the diamonds to ensure the ring looks as good as new.
The good news is, there are still options for rings that can't be resized so that they won't fall off. This includes wearing a smaller ring next to it to help it stay in place or having a ring remade in the proper size to fit your finger. Another option is sizing beads, when resizing your ring is not achievable.
Jewelry Re-Sizing Reviews
"I was looking for a jeweler that would be able to size a family heirloom ring. We have been to a few places but were discouraged for one reason or another. We found ER Sawyer and received an immediate response, we brought the ring in, explained what we would like to have done and crossed our fingers. Not only were they absolutely amazing with the process but even cleaned my other engagement ring while we were waiting... just because!! The resizing was not only fast but the ring looks AMAZING! I cannot express enough my gratitude for the amazing job they did... but just the stellar customer service that is off the charts amazing! If you want EXCELLENT service and unbeatable craftsmanship... please call Leslie at ER Sawyer, she will make you feel like a celebrity!"
Shannan J.
"I LOVE THIS PLACE!!! I just got engaged on xmas and came in to have my ring changed a bit and sized, I had no idea about what size or what look but Leslie the lady who helped me made me feel SO comfortable and at ease I wont go anywhere else now. THANKS!"
Christine S.
Get in Touch
For over 140 years, the Van Dyke Family has served the jewelry needs of Sonoma County. So when you need assistance selecting a one-of-a kind engagement ring, repairing a family heirloom, or choosing a new time piece, turn to the experienced E.R. Sawyer Jewelers team for help.