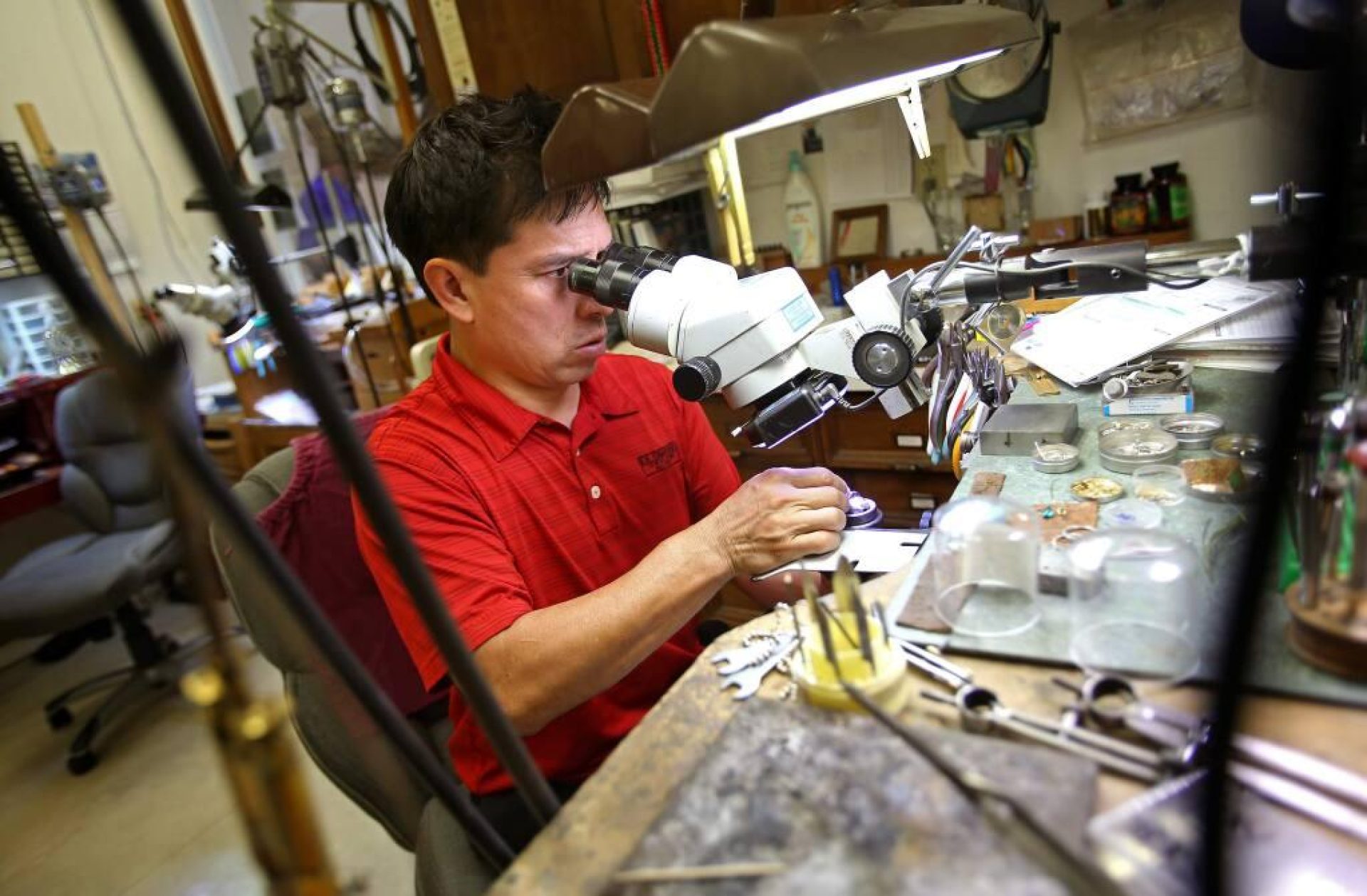 Jewelry Services
Expertly trained in-house goldsmiths at our Santa Rosa & St. Helena stores.
E.R. Sawyer Jewelers has a state of the art, on-site jewelry repair department at both our Sonoma County and Napa County stores. Our expert craftsmen undertake a full range of jewelry services from repairs, fire restoration, engravings to custom work, and jewelry redesign for both antique and modern pieces.

We have been serving the North Bay area since 1879, and are confident in our ability to deliver impeccable customer service. From fine jewelry repairs and bespoke design, to watch battery replacements and servicing, our team of trained consultants will be able to offer knowledgeable advice and expert guidance.
Not only is E.R. Sawyer Jewelers one of the oldest jewelry stores in Sonoma County and Napa County, many locals choose to work with us because of our in-house goldsmiths in both our Santa Rosa and St. Helena stores. We take pride in handling all of your jewelry pieces in-house.
Only Accredited Gem Lab in the North Bay
The Accredited Gem Lab® (AGL) designation is verified by the American Gem Society, which is comprised of the top jewelers in the United States and Canada. There are approximately 500 such labs in North America and we are proud to be the only one in the North Bay to hold this distinction. The AGL designation means E.R. Sawyer Jewelers has the equipment required to perform gemological testing and appraisals, which is done by our fully-credentialed gemologist.
All your precious pieces of jewelry is fully insured when in our care and are stored safely in our vault at night.
Complimentary Jewelry Cleaning
We we offer a complimentary jewelry checking and cleaning service to ensure your pieces stay in peak condition, with the stones secure in their settings. Simply drop by our Santa Rosa or St. Helena store. Having your jewelry checked regularly will catch any early signs of damage and wear to the settings or on stones and allow preventive measures to be taken.
Add a personal touch to your jewelry with an engraving. We can engrave anything from a special date, soundwaves from a favorite song, a loved one's handwriting, to fingerprints. Jewelry engravings can be especially poignant on the inside of engagement or wedding rings.
Get in Touch
For over 140 years, the Van Dyke Family has served the jewelry needs of Sonoma County. So when you need assistance selecting a one-of-a kind engagement ring, repairing a family heirloom, or choosing a new time piece, turn to the experienced E.R. Sawyer Jewelers team for help.