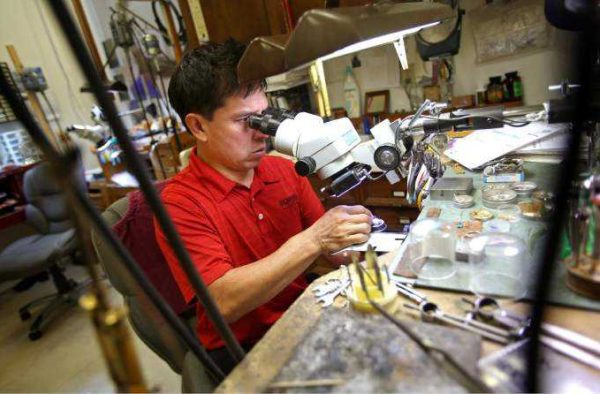 When you need a jewelry repair or your favorite watch piece stops running you want to make sure it's fixed quickly – after all, you feel a little naked without it! However, you're also interested in skill, not just speed. Your best pieces deserve a great deal of care and expertise, and we know you don't want to trust them to just anyone.

That's why we make it a priority to keep a full in-house service team on staff. Six days a week, you'll be able to find full-time goldsmiths and jewelry & watch service right here at ER Sawyer. We never outsource for basic repairs, although complex repairs may go to one of our trusted connections to ensure the best possible service. If you own a Hearts on Fire piece, you'll be happy to know that we're one of only four certified Hearts on Fire Repair Centers in all of California.
What else can you expect when you come to us? Detail-oriented work, creativity, knowledge, and fantastic customer service. We use a LASERSTAR laser welder, which allows us to apply localized heat in order to create a solid weld without damaging heat-sensitive stones or other elements. In addition to watch & jewelry repair, we also gladly offer resizing, restoration, replication, stone setting, and full-service engraving.
Rather than drop your prized pieces off at a random mall kiosk, please come in and ask us about repairing, restoring, or cleaning your jewelry and watches. You'll receive professional care from a historic and professional jeweler, which is worth its weight in gold. Come see us or give us a call today!
Get in Touch
For over 140 years, the Van Dyke Family has served the jewelry needs of Sonoma County. So when you need assistance selecting a one-of-a kind engagement ring, repairing a family heirloom, or choosing a new time piece, turn to the experienced E.R. Sawyer Jewelers team for help.