5 Everyday Jewelry Pieces Perfect for Any Style
Posted: October 21, 2020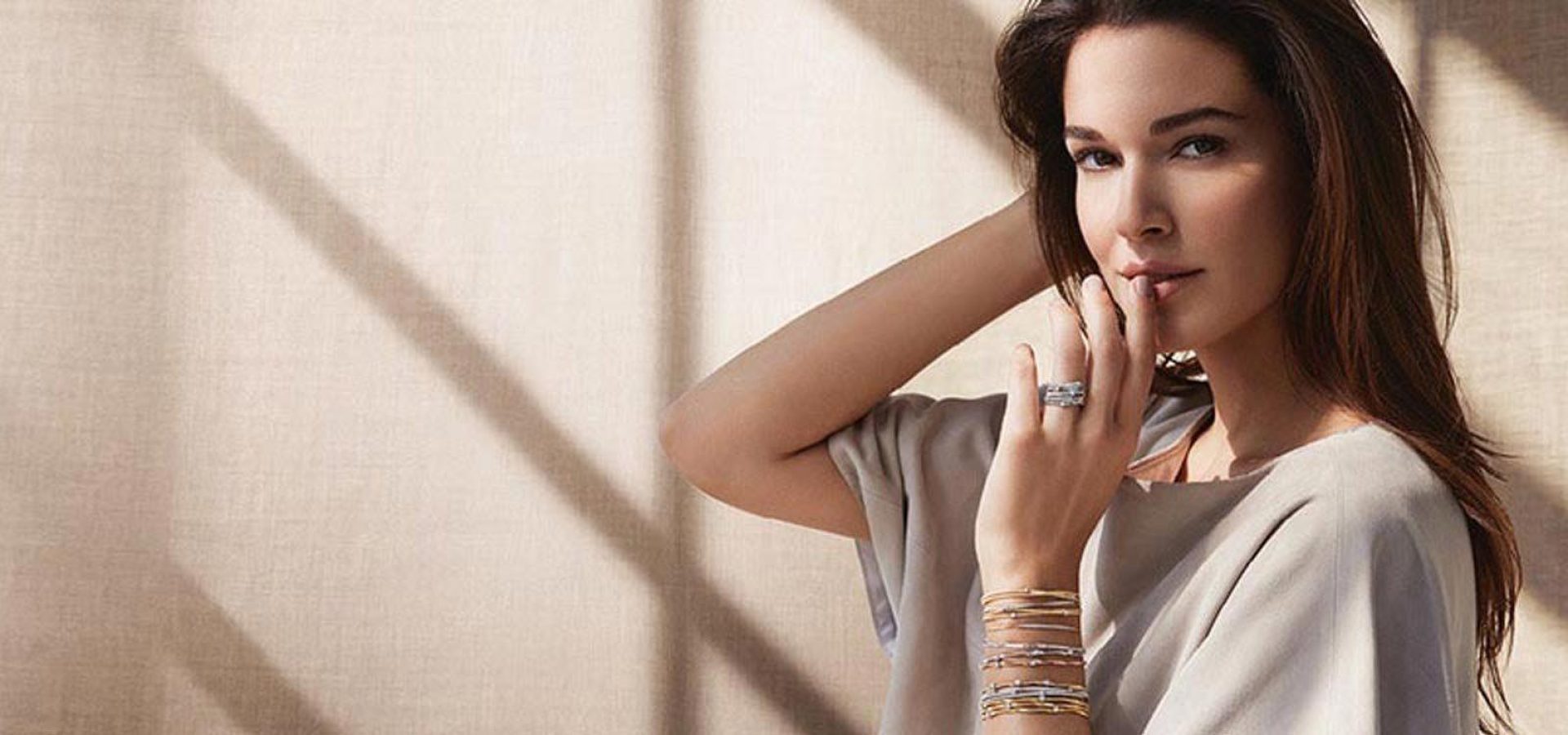 E.R. Sawyer Jewelers' Everyday Jewelry Style Guide to Complete Any Outfit
Are you feeling uninspired with your everyday wardrobe or want an easy way to spice up your casual attire?
Our wardrobe's in 2020 have tended to center more around stylish basics and leisurewear than party dresses and vacation attire. While our clothing has veered more to the casual side, jewelry can give an instant lift to any outfit. During a time of limited will to wear trends (or invest time and effort into sartorial decisions when there are bigger things to worry about), it's the sort of small nod to normality that can put a pep in your step.
The best everyday jewelry serves as the foundation of your accessory game. Similar to the perfect white tee, tailored blazer, or dependable little black dress in your wardrobe – whether dressed up or down, these surefire staple pieces will look great every time. They're the pieces you put on instinctively every morning, not worrying whether they match the outfit you end up wearing—because they always do.
Everyone needs a couple of staple accessories in their collection that they can always rely on to complete any outfit. Learn how you can style any outfit with our guide to everyday jewelry and transform your look with any of these five staple accessories from E.R. Sawyer Jewelers.
---
1. Rock a Pair of Classic Diamond Stud Earrings
A pair of classic diamond stud earrings make the perfect everyday jewelry piece for any collection. They come in many shapes and sizes, and can suit any occasion or style.
This versatile accessory can add a little flair to a casual everyday outfit without being overwhelming, and transition to an evening look with little effort. Diamond stud earrings are also very light and durable so they can be comfortable to wear - even with a face mask! This makes them a go-to accessory for all our essential workers out there.
When searching for the most flattering diamond earring you will have a large variety of metal
types, cut styles, and settings to consider.
---
Metal Type
Typically yellow gold compliments darker complections and warmer skin tones, while white gold and platinum flatter cooler skin tones. However, it is important to wear whatever metal type makes you feel your best.
Diamond Cut
Round cut diamond studs tend to suit longer and more thin faces, while a square princess cut diamonds adorn broader face structures very well. Again, wearing what makes you feel beautiful is key!
Diamond Setting
A setting with three to four prongs to hold the diamond in place is best for an active wearer. A well-set prong stud, as well as a bezel set stud (holds the diamond flush against the metal), will eliminate possible snagging on clothing, hair, or face masks and are a great choice.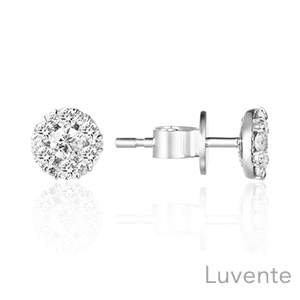 Our Luvente 14k White Gold Diamond Cluster Stud Earring is one of our most popular styles available at E.R. Sawyer Jewelers.
2. Add a Delicate Pendant Necklace

One of the easiest accessories to wear on any occasion is a delicate pendant necklace. This staple piece can be found in most women's collections for good reason. From everyday tops for work to comfy clothes for running errands, a pendant necklace is perfect for accessorizing any outfit.
That's not even the best part! A pendant necklace is the perfect gift of sentiment that won't need to be stored away and only worn on special occasions. This dainty accessory can be worn every day without overpowering an outfit, while still making a statement when worn on its own.
Our Hearts on Fire Fulfillment Pendant Necklace is so versatile it can easily be worn day to day or accessorize a more formal ensemble.
3. Make a Statement with a Layered Necklace

Layered necklaces are a great way to take any outfit up a notch. Does your day include zoom meetings with colleagues, or having a parent teach conference over skype? Pairing a layered necklace with a casual blouse is an easy way to add a little sophistication to a simple outfit.
When choosing the perfect everyday jewelry to layer with, pick thin chains that drape at varying lengths and aren't too bulky. This will create a timelessly delicate accessory that is ideal for any outfit.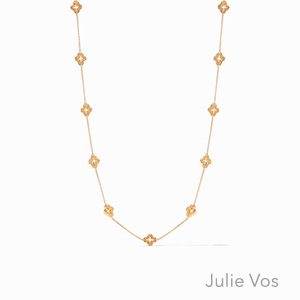 Our Florentine Demi Delicate Necklace by jewelry designer Julie Vos is the perfect piece for layering. The slender 24k gold plated chain and sweet floral embellishments is slender enough to be easily accented with one or two other pieces.
4. Mix and Match Stacking Bangles

Accessorizing everyday outfits by stacking bangles is a fun and easy way to really get more mileage out of just a few simple jewelry pieces. Mix and match different bracelets to complement your outfit or mood for the day.
If you are just starting your bangle collection, consider adding three to four pieces that are different widths and textures. Another great beginner trick is to get comfortable by wearing them on your non-dominant hand and experimenting with different colored metals and materials.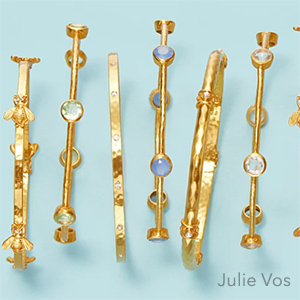 Our Julie Vos bracelet collection offers a great combination of sophistication and simplicity that will make anyone look and feel effortlessly confident in their presentation.
5. Add a Touch of Sparkle with a Diamond Ring

An everyday ring doesn't need to be boring. In fact, the best rings to accentuate a casual outfit will be one that makes a statement. That alone makes them the perfect everyday accessory.
Our Hearts on Fire diamond rings at E.R. Sawyer Jewelers are known as "the world's most perfectly cut diamond" and set the standard for beauty. Their durability and refinement make any Hearts on Fire diamond ring perfect for everyday wear and the ideal accessory for any hard-working woman.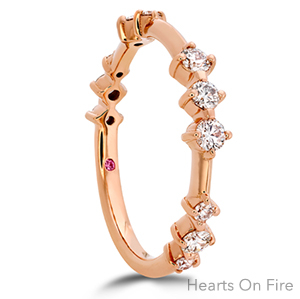 Our Love Code Diamond Band from Hearts on Fire is the perfect ring to stack with other rings or be worn on its own as a favorable statement piece.
Discover More Everyday Jewelry at E.R. Sawyer Jewelers

Is it time to update your collections with some new staple pieces? With over 140 years of experience, and hundreds of designer jewelry pieces, E.R. Sawyer Jewelers is here to help. Our jewelry specialists are dedicated to providing you with a luxury experience and the highest quality jewelry perfect for your everyday style.
Upgrade every outfit with essential jewelry pieces by shopping our collections online today! Or meet with our expert jewelry specialists at one of our fine jewelry store locations in Santa Rosa or St. Helena.
Get in Touch
For over 140 years, the Van Dyke Family has served the jewelry needs of Sonoma County. So when you need assistance selecting a one-of-a kind engagement ring, repairing a family heirloom, or choosing a new time piece, turn to the experienced E.R. Sawyer Jewelers team for help.