Why Jewelry Is The Best Holiday Gift in 2019
Posted: December 13, 2019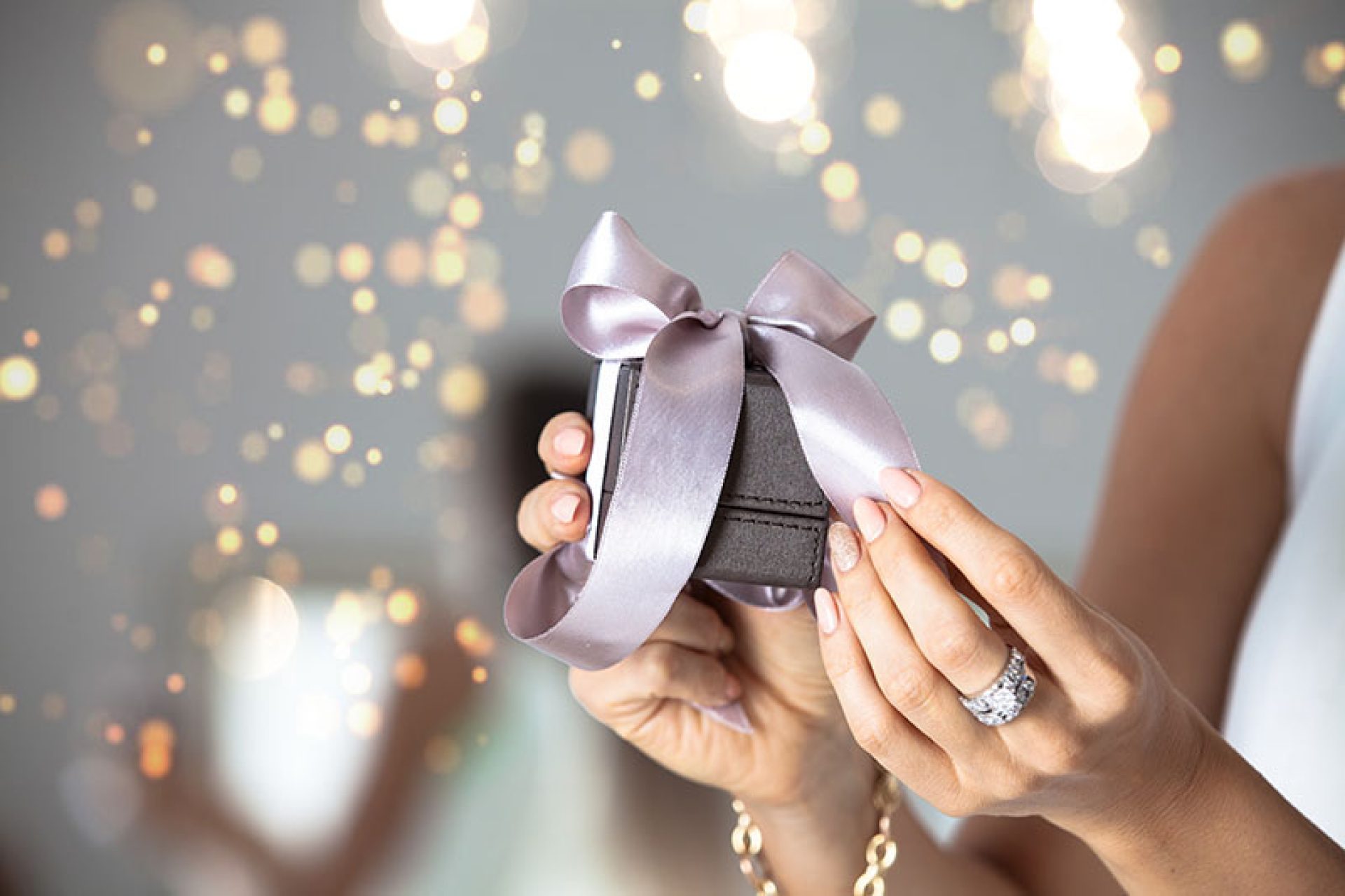 Jewelry Is a Gift That Says It All
There is always something so special about unwrapping a present. Whether it is big or small -- the excitement is always there, fueled by the mystery of what it could possibly be!
As a gift-giver, there is no better feeling than watching someone you love open their gift and seeing the look of amazement on their faces when they first see what you picked for them. Are you stumped when it comes to picking out a holiday gift for a loved one this year?
Here at E.R. Sawyer Jewelers, we believe that jewelry is the perfect gift to give! Let us tell you why:
Timeless Jewelry Never Goes Out Of Style
Jewelry is more than just a purchase, it is an investment. The brand new necklace you gift your wife this year could be the very same necklace that one of your great-great-great grandchildren receive as a gift in the future.
Unlike the latest tech gadget that will be obsolete in a couple years, a unique piece of jewelry lasts more than a lifetime. This season, when you're picking out the perfect piece for your special someone, consider that you might also be investing in a cherished family heirloom. Our staff at E.R. Sawyer Jewelers is here to help you pick out a piece that is not only beautiful, but timeless.
Jewelry is the Most Memorable Gift
Nothing elicits more "oohs" and "awes" like the unboxing of beautiful piece of jewelry. Compliment anyone on a beautiful ring or handsome watch and they will always tell you who gave it to them!
A fine piece of jewelry is not something we typically purchase for ourselves, so when a new piece is given to us, the sentiment always leaves a lasting impression. Whether worn daily or only on special occasions, jewelry is a gift that is cherished by the receiver for years to come.
Jewelry Can Celebrate Someone's Unique Style
Everyone's style is unique and jewelry is the perfect way to accentuate that! Gifting someone a special something that matches their taste demonstrates how much you truly love and appreciate their individuality.
Browse our white and yellow gold pieces, or find the perfect gemstone, crystal, or diamond available on our online store. Our unique selection of jewelry includes earrings, bracelets, necklaces, and rings for both men and women.
E.R. Sawyer Jewelers also specializes in custom jewelry design and custom stone settings. Our experts take pride in their precision & skill and can create one-of-a-kind pieces for your loved one.
Make Cherished Jewelry Pieces New Again
Is there someone in your life who refuses to get rid of that old piece of jewelry or their watch that has been broken for years? If they haven't made the time to get it resized or repaired, we have you covered.
E. R. Sawyer Jewelers has been the premier source for jewelry and watch repair in Santa Rosa since 1879. Surprise your loved one by bringing their favorite piece of jewelry or watch back to life this holiday season.
Sonoma and Napa Counties' Trusted Source for Holiday Gifts
With over 140 years in business, we are confident that we can help make this a holiday to remember with the perfect gift.
At E.R. Sawyer Jewelers, your shopping experience is going to be as luxurious as the pieces you choose. Our experts in Santa Rosa and St. Helena are ready to assist you in finding a gift that won't soon be forgotten. Stop by our Downtown Santa Rosa location before December 25th and receive 20% off our gorgeous Hearts on Fire Collection!
Get in Touch
For over 140 years, the Van Dyke Family has served the jewelry needs of Sonoma County. So when you need assistance selecting a one-of-a kind engagement ring, repairing a family heirloom, or choosing a new time piece, turn to the experienced E.R. Sawyer Jewelers team for help.